Part Name
Aluminum spinning/aluminum alloy spinning/copper alloy spinning/copper spinning/zinc alloy spinning
Material Type
Carbon steel, Stainless steel, Metal sheet, SPCC, Brass, Copper alloy, Aluminum, Aluminum alloy and so on...(According to customer drawings and specifications)
Machine Type
Spinning machine
Additional machine
Die casting machine 120T, 180T, 280T, 400T, 630T, 800T.
Punching machine <50T ~ ≥50T ~ ≥100T
CNC machine, Electric Pluse, Wire EDM, Milling, Drilling, Grinding etc.
Tapping Machine, Squeeze River, Spin Riveting machine
Bending/Shearing machines.
CNC machine, Electrinc pluse, Wire EDM, Milling, Drilling, Grinding etc.
Surface Treatment
Polishing, Sandblasting, Painting, Powder coating ,Galvanizing, Chrome plating, Anodize (White or Black Color) E-coating, T-Coating, as customer;s requirement.
Process
Drawing & Samples → Mould making → Part spinning→ Deburring→ (Secondary processing if necessary) → Surface treatment→ Quality inspection → Packing → Shipping
Tolerance
+/-0.1mm or less.
Application
-Lighting products
-Electrical proudcts
-Medical devices and products
-Commercial and Industrial Equipment
-Meters/recreational vehicles
-Small engines, Vehicle parts
Lead Time
Depends on the quantity and complexity of product.
Drawing Type
.IGS . STEP . SLD . X_T . DXF .DWG . SAT . STL
Company Information:
ShenZhen ShangHong Metals is a global manufacturer of both conventional and multi-slide die cast precision components. We offer solutions for a variety of industries including light of hoticulture and ballast, professional/stage lighting housings, LED light enclosures, motors, communication products, consumer electronics, automotive, healthcare, and more.
All of our customers receive insight and expertise throughout all stages of the project. Contact us to request a quote today.

For more information, please visit our website: http://shanghongmetals.en.made-in-china.com
Our factory: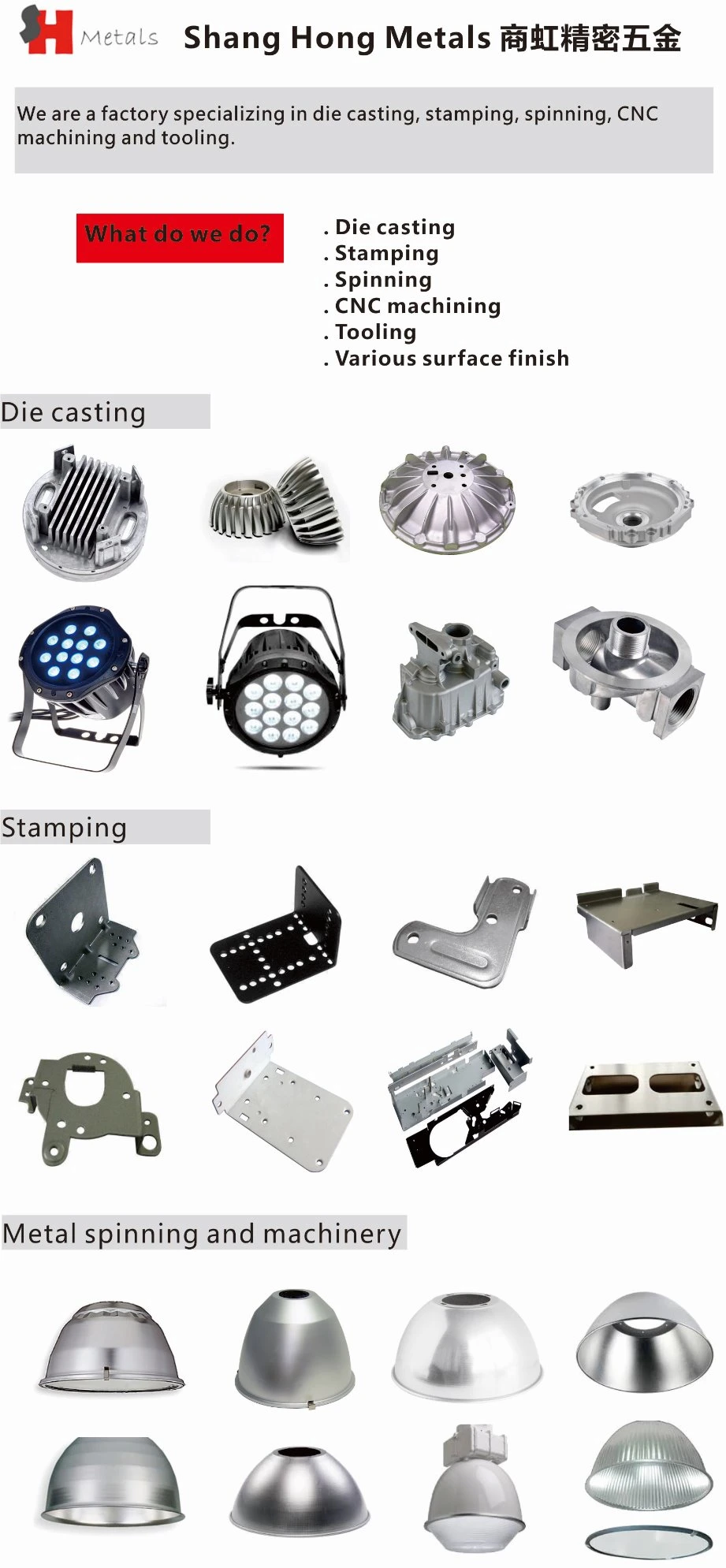 Metal spinning, also known as spin forming or spinning or metal turning most commonly, is a metalworking process by which a disc or tube of metal is rotated at high speed and formed into an axially symmetric part. Metal spinning does not involve removal of material, as in conventional wood or metal turning, but forming (moulding) of sheet material over an existing shape.
Metal spinning ranges from an customer's specialty to the most advantageous way to form round metal parts for commercial applications. People use the process to produce architectural detail, specialty lighting, decorative household goods and urns. Commercial applications include rocket nose cones, cookware, gas cylinders, brass instrument bells, and public waste receptacles.
Virtually any ductile metal may be formed, from aluminum or stainless steel, to high-strength, high-temperature alloys including INX, Inconel, Grade 50 / Corten, and Hastelloy. The diameter and depth of formed parts are limited only by the size of the equipment available.