CE Rohs Low Decay IP65 LED Highbay Warehouse Light
Data Sheet of UFO LED High Bay Lights:
Products Name

UFO LED High Bay Lights

Wattage

100W

150W

200W

240W

Lumen

13000lm

19500lm

26000lm

31200lm

Lamp Size

Ø280*H165mm

Ø340*H174mm

Ø400*H186mm

Ø400*H196mm

Dimmable

NO

NO

NO

NO

Weight

N.W: 2kg

N.W: 2.7kg

N.W: 3.6kg

N.W: 4.2kg

G.W: 2.3kg

G.W: 3.35kg

G.W: 4.1kg

G.W: 4.7kg

Carton Size

QTY per carton: 1

QTY per carton: 1

QTY per carton: 1

QTY per carton: 1

Dimension of ctn: 33*33*17cm

Dimension of ctn: 40*40*17cm

Dimension of ctn: 45*45*18cm

Dimension of ctn: 45*45*20cm

Input voltage

AC100-277V, AC347V, AC480V

Certification

CE, ETL, DLC, cul ul:E470400, ETL:5001457, LM-79, LM-80, TM-21

Warranty

5 years

Life span

≥50000 hrs

Housing

Die-casting aluminum+PC lens

Environment

Indoor, Wet location

Warranty

5 years
Pictures of UFO LED High Bay Lights :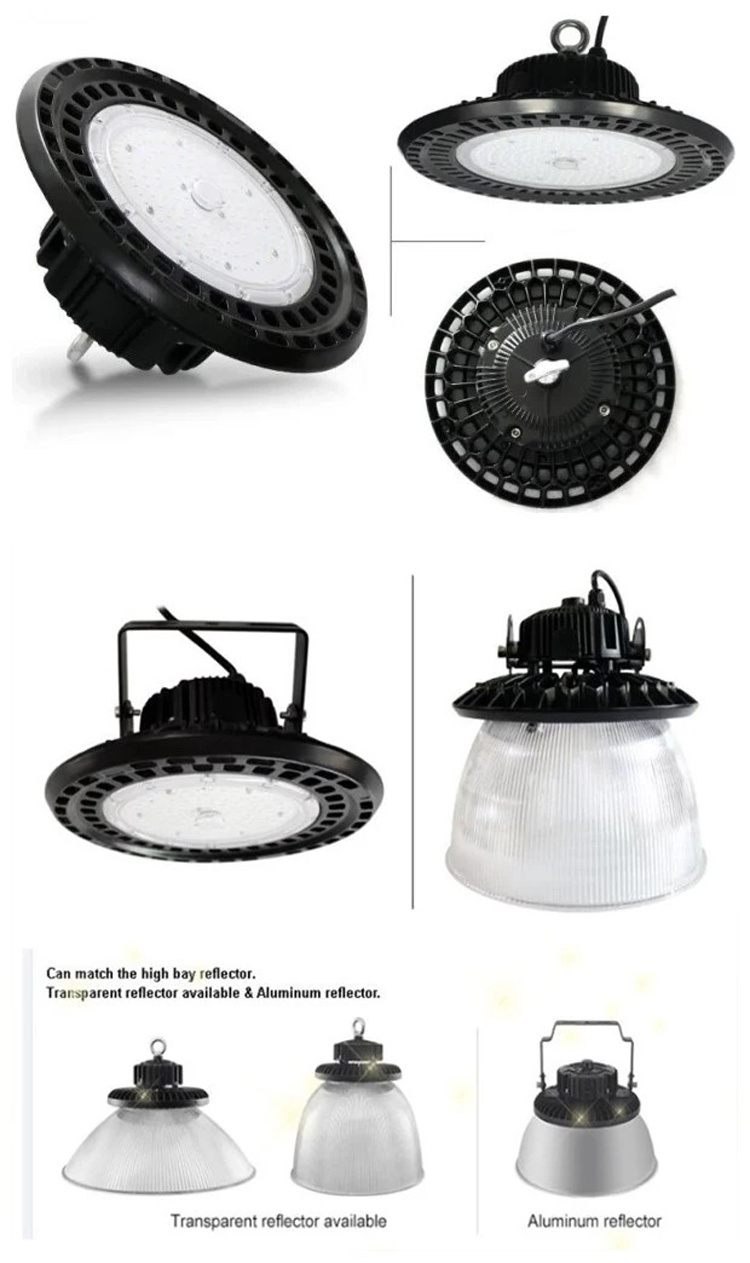 Description:
UFO High Bay Lighting Saves Money and Looks Sci-Fi Cool. The latest technology in warehouse lighting is UFO lights.Nicknamed UFO lights because they look like something out of a science fiction movie, they are actually an extremely efficient source of light.With lumens up to 26,000, these can easily replace classic warehouse lights.They are fast becoming the choice of commercial and even residential lighting.


Features of UFO LED High Bay Lights :
1. High quality SMD LED, use original quality LED source. Whole fixture Lumens over 130lm/W.
2. Meanwell drivers or TUV GS SAA CB XRED driver from own factory.
3. Low profile robust support easy install and maintain.
4. ETL cETL DLC CE listed , LVD EMC certified high quality outdoor lights for projects and government order from our 14 years old factor.
5. PHOTOSENSOR, MICROWAVE, ZIGBEE Control are all available.
6. A UFO Led High Bay Light can get 100,000 hours of use. Combine that with being UL Certified and 5 year warranties ensure these things are built to last. Depending on use, they may not have to be serviced for 20-40 years. At 8 hours a day, 365 days a year, that's still 35 years of useable life.At 12 hours a day it's still 22 years. It's a pretty good bet you will be changing these out for crazier technology or looks long before the LED lights die out.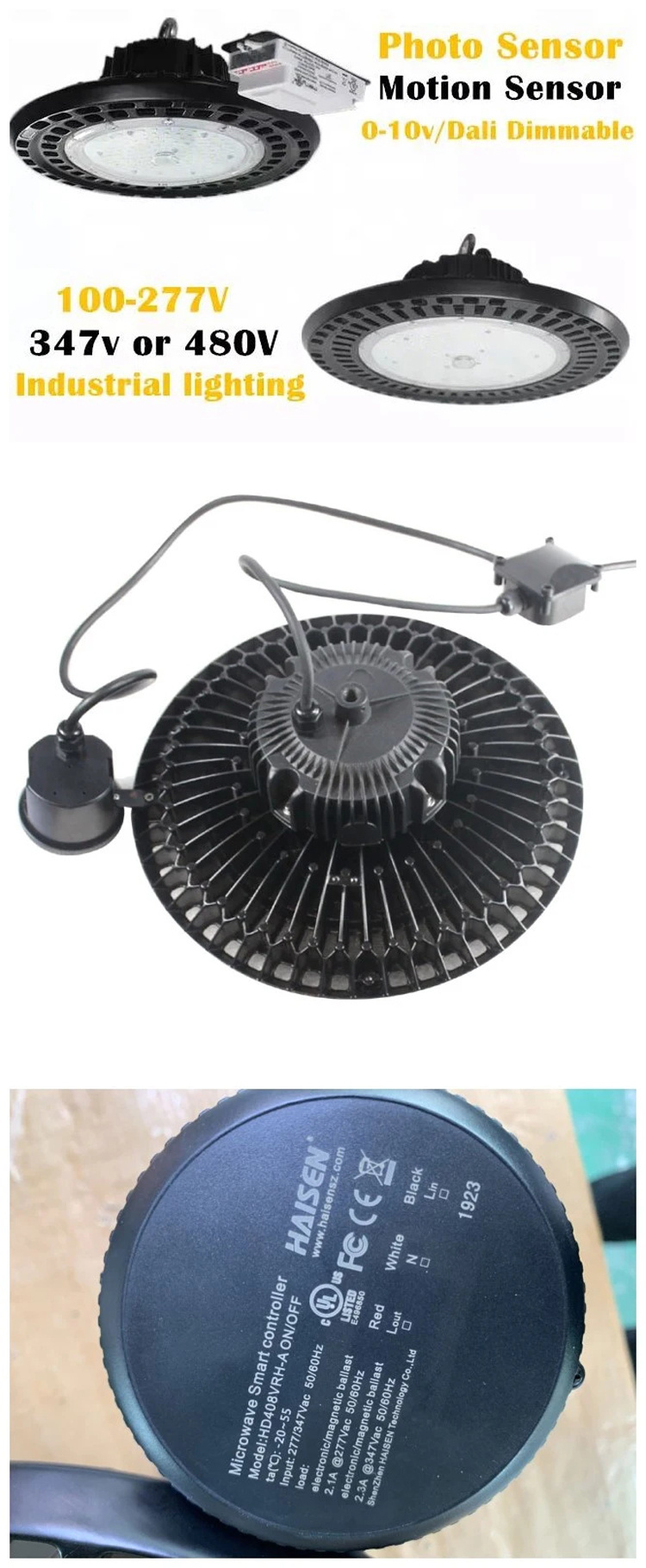 Application Places of UFO LED Highbay Lights :

Any situation where the lights are hung from above at 12 feet or higher is a great use case for the UFO lights. They start at 50 watts and 6000 Lumens which is good from 12-15 feet high. They go up to 240 watt at 32,000 Lumens which can work as high as 35 feet if you have enough of them. The light can project that far, but we recommend narrowing the beam angle to 60 or 90 degrees While initially they have been hung in warehouses and other tall ceiling buildings, we are seeing more of them used in retail and restaurants as design pieces. They are becoming part of a 'modern' look in lighting. Widely used in school hall, hotel, factory, gas station, indoor gymnasium, exhibition hall, railway station waiting room, library, logistics warehouse, cold storage, etc., and other indoor light applications.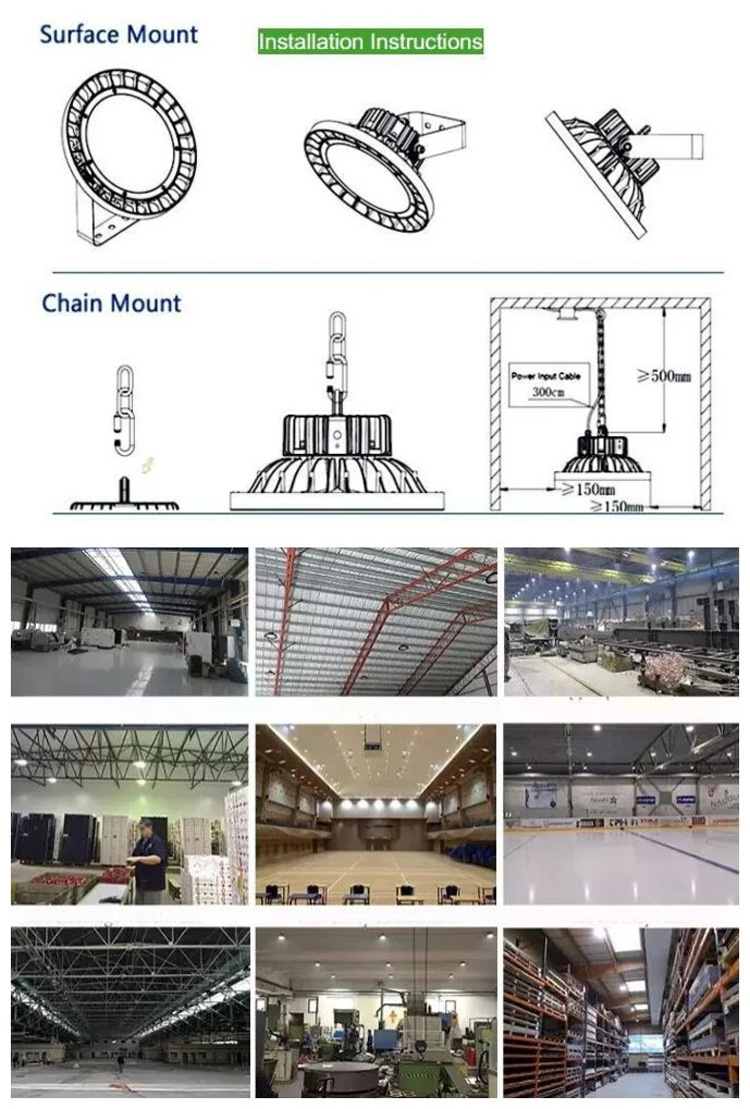 Test For UFO LED High Bay Lighting :
Before shipping, all the UFO LED high bay lights will be over 24 hours aging tested, inspection department will test 100% products including light up test , power wattage test , high-Voltage test , waterproof test , ground connection test and so on, defective rate is controlled less than 0.1%. Quality is ensured, you can be assured.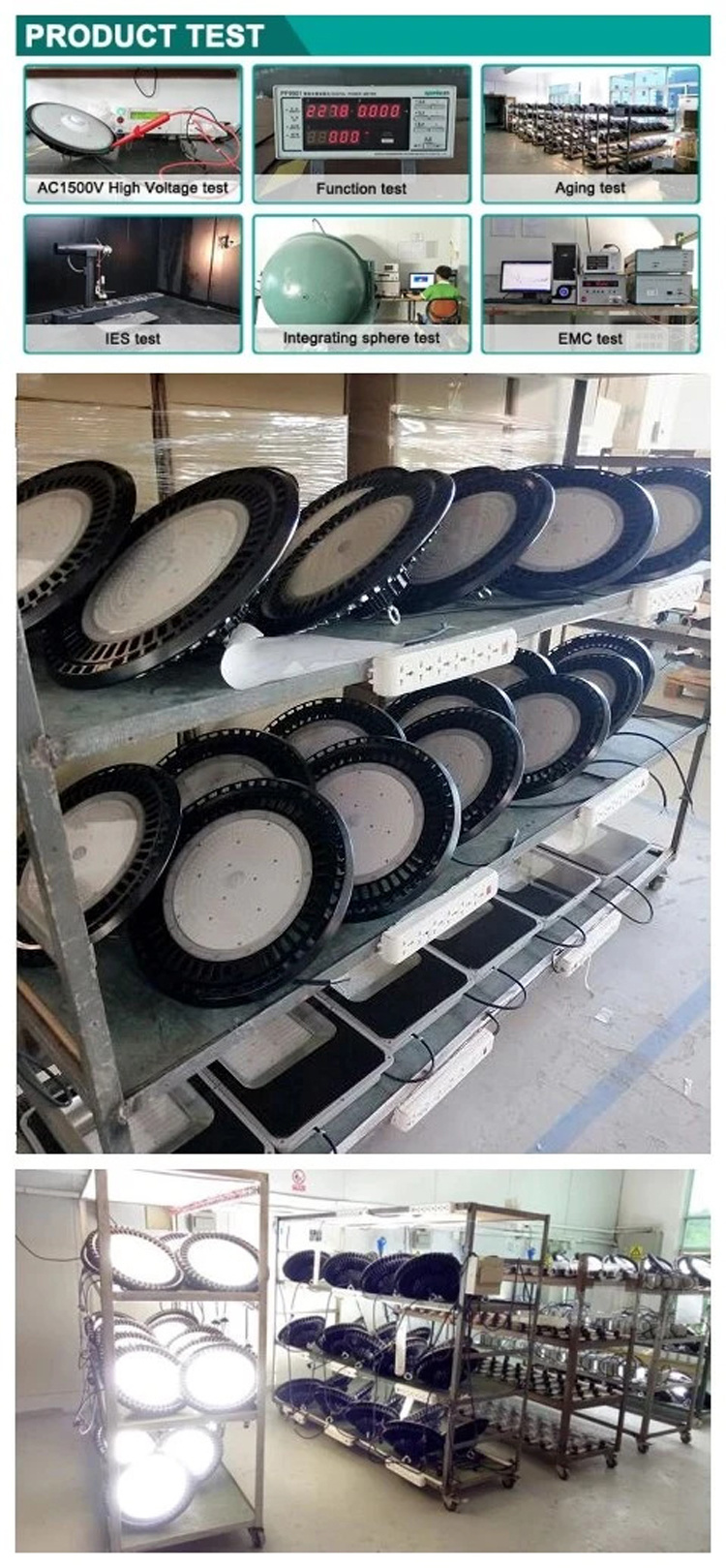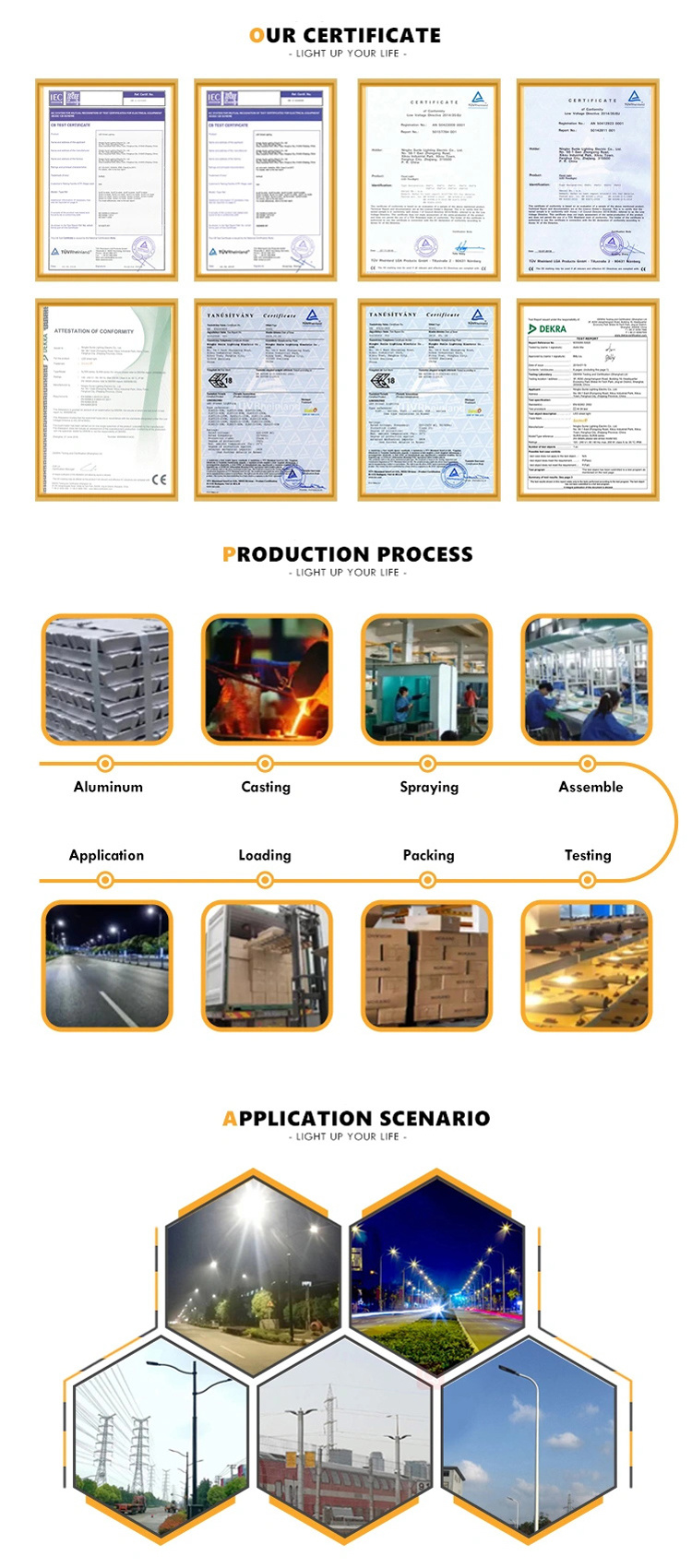 Any questions or needs, pls feel free to contact us!