1500a zinc plating rectifier anodizing rectifier chrome plating electro plating pulse rectifier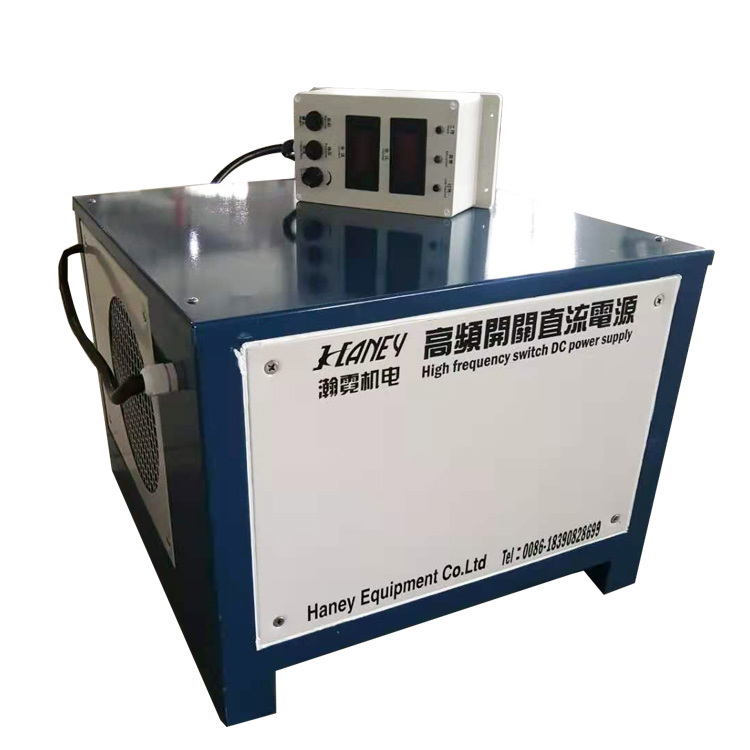 Features&Advantage:
The product adopts IGBT inverter soft switch rectifier technology, is mainly as finish electroplating rectifier power supply of all kinds of metal and nonmetal (like electroplating zinc, nickel, chrome and titanium etc), it can also be used as electrolytic rectifier power supply, general anodizing power supply and DC heating supply etc.
Operation mode: local/remote operation mode can be chosen

Output control mode: constant current/constant voltage output control mode can be chosen.

Rectifier mode: IGBT inverter soft switch rectifier, 5% energy-saving comparing with common switch rectifier power supply, 15-25% energy-saving comparing with thyristor rectifier

Main protection functions: deficient phase, overvoltage, under voltage, quick fuse alarm protection of AC power supply, output over current and current limiting protection, output short circuit and instantaneous overload protection, over temperature and overheat protection of IGBT power component, switch rectifier transformer, quick rectifier diode component and BUS copper bar, overheating and high pressure protection of wind machine, low block PWM trigger pulse protection.
Optional function:
Auto/manual timer, auto/manual reverse,touch screen, slow start,ampere hour,RS485...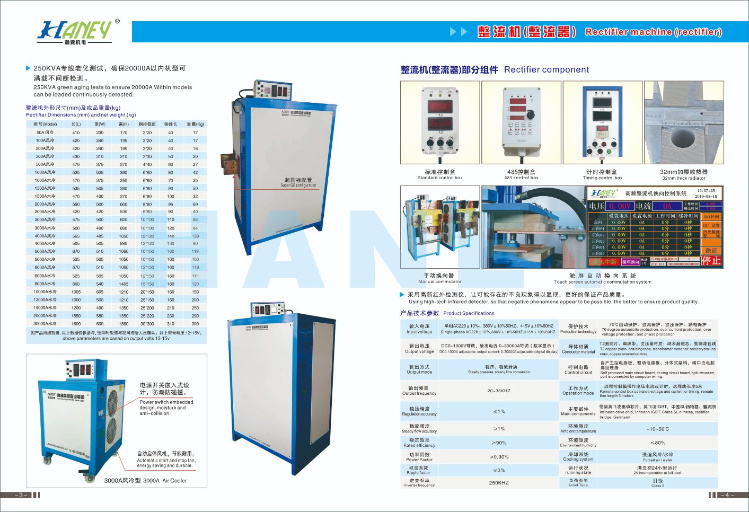 why choose us:
CE standard
short delivery(stock for normal items,3-4days for OEM parameters)
You can buy rectifier/ industrial chiller/immersion heater/rotator machine/pump/filter from us.
Professional technician and foreign sales team.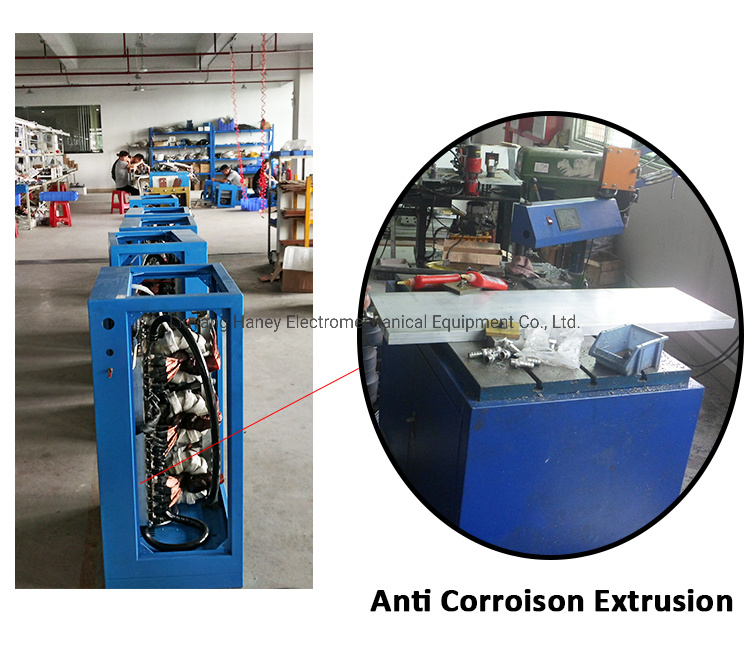 Technical Data:
| | |
| --- | --- |
| AC input | 220v/380v/415v/440v....(OEM) |
| DC input voltage | 0-15 V continuously adjustable |
| DC output current | 0-1500A continuously adjustable |
| Out put power | 22.5KW |
| Defensive function | Under voltage, over voltage, overload, short circuit protection, thermal protection. |
| Power DC protection time | More than 20msec |
| Overload protection | 105~120% Rated output current |
| Short-circuit protection | Instantaneous short-circuit |
| Operating temperature range | -20ºC~50ºC |
| Type of cooling | water-cooling/air cooling |
| Dimensions (L * W * H)mm | 500*500*400mm(air cooled) |
Application: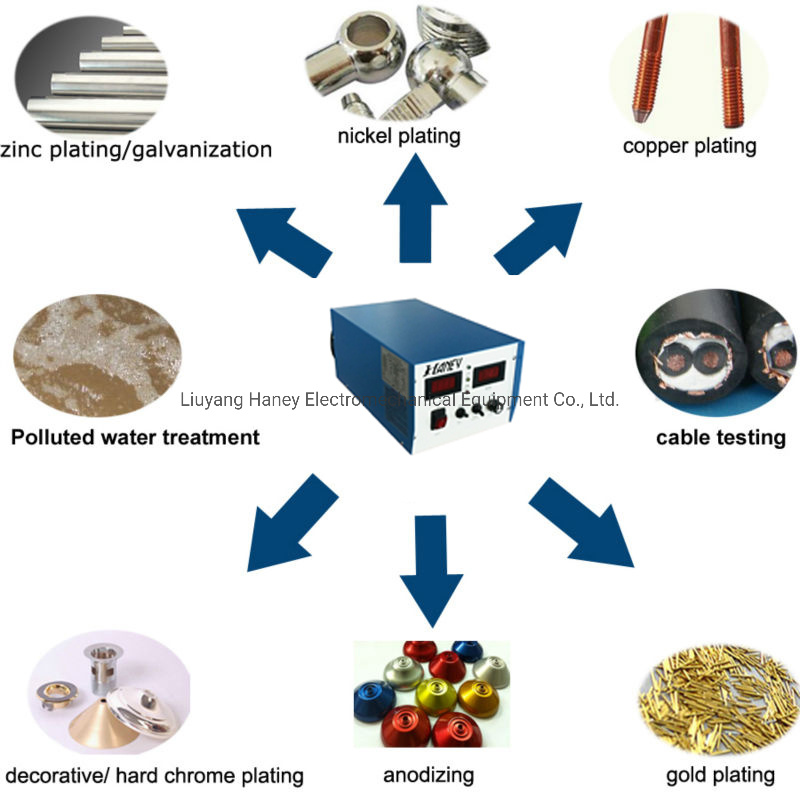 Main Category include rectifier,immersion heater,industrial chiller,heat exchanger,filter and so on....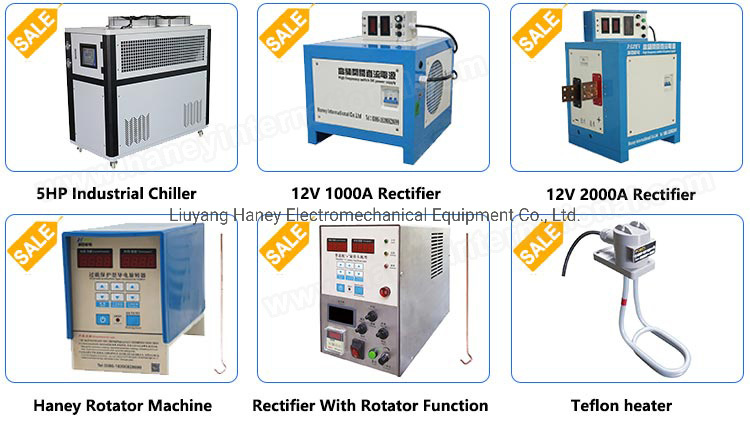 Company Introduction:

Liuyang Haney Electromechanical Equipment Co.Ltd located in Liuyang city,famous for fireworks& mechanical manufacturing industry worldwide.

We are professional in line with surface treatment.which covers a wide range of products which include igbt rectifier,rotator machine,industrial chiller,immersion heater,filter,anodes…
It is a high-tech enterprise with simultaneous internal and external sales. Our machine is widely used in metal,plastic,chemical,electronics,medical,machinery,military,environmental protection and other fields.
Based on advanced technology and scientific management strategies to create superior quality products, we focused on R&D,production,sales,service to provide customers with more valuable products and services.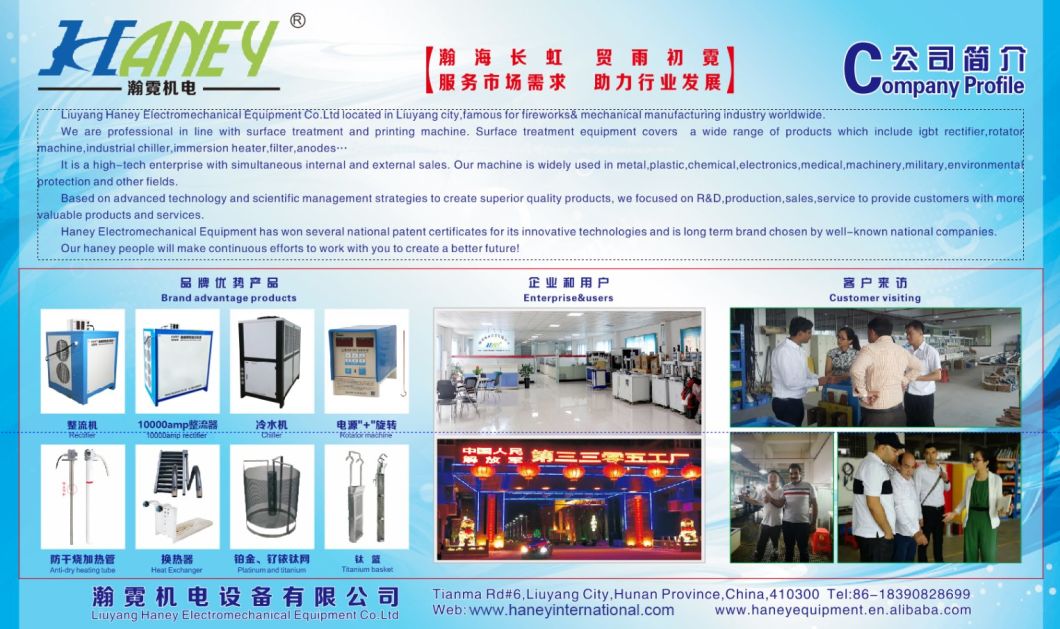 Customer visiting:
(
Our equipment exported worldwide,which include
Indonesia,India,Thailand,USA,Australia,Russia,Egypt,Turkey,Greece,Mexico,New Zealand...)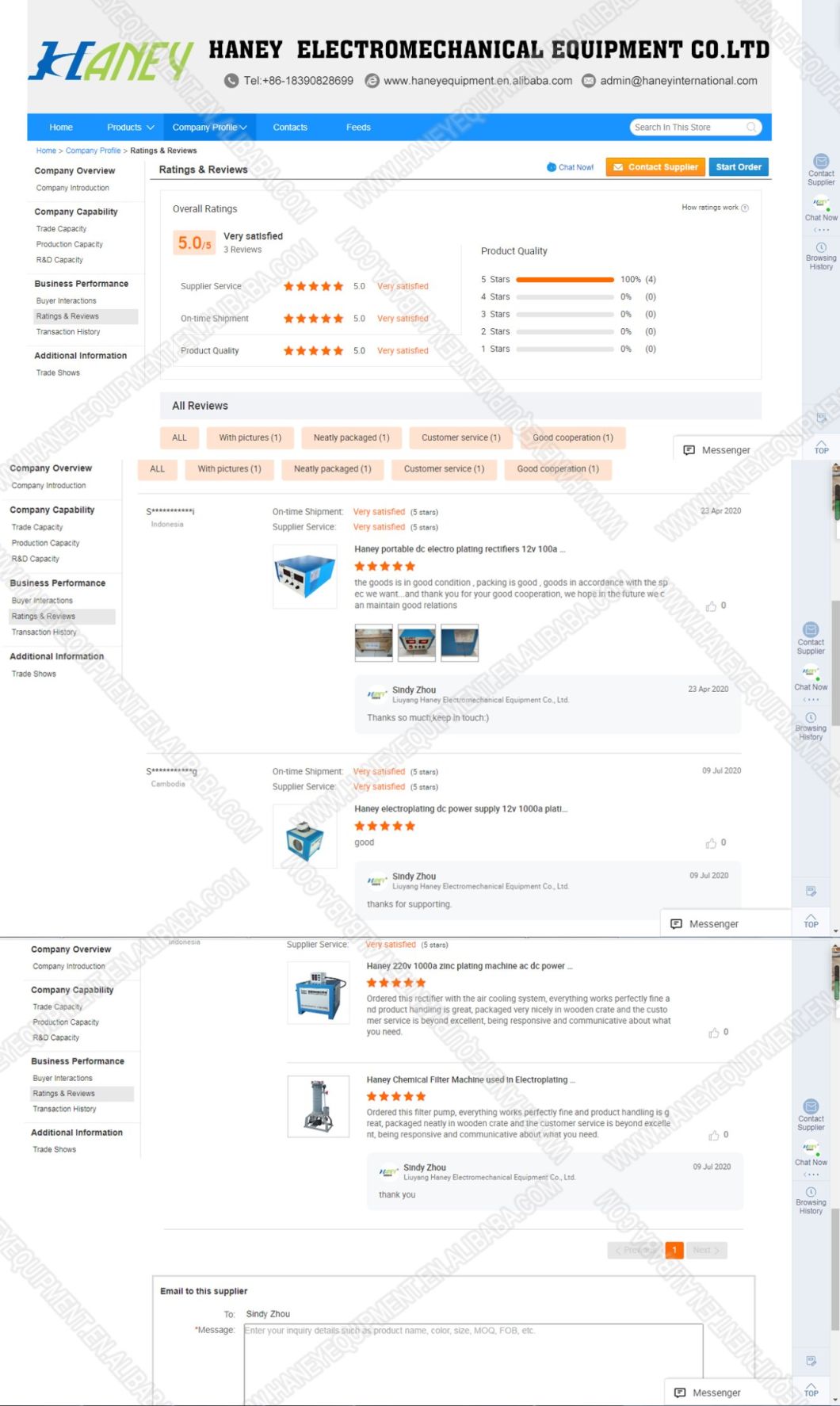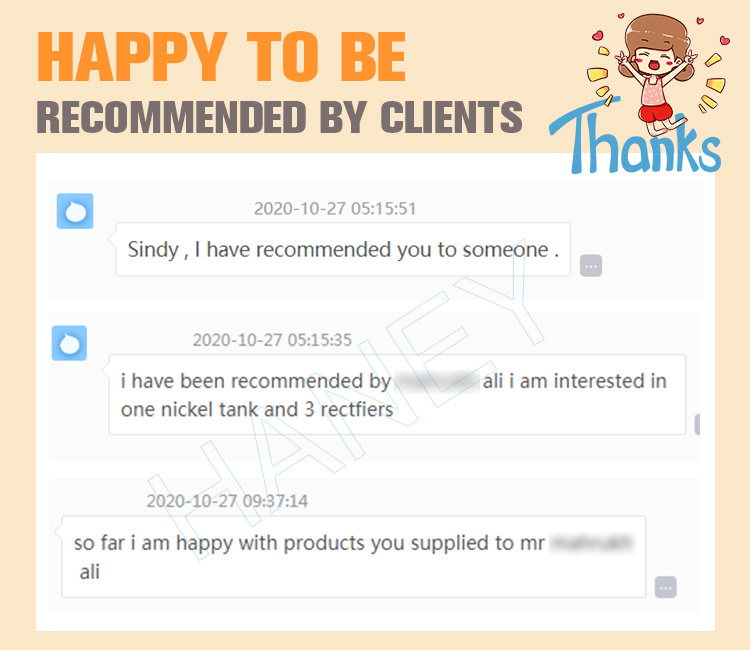 Welcome your inquiry!